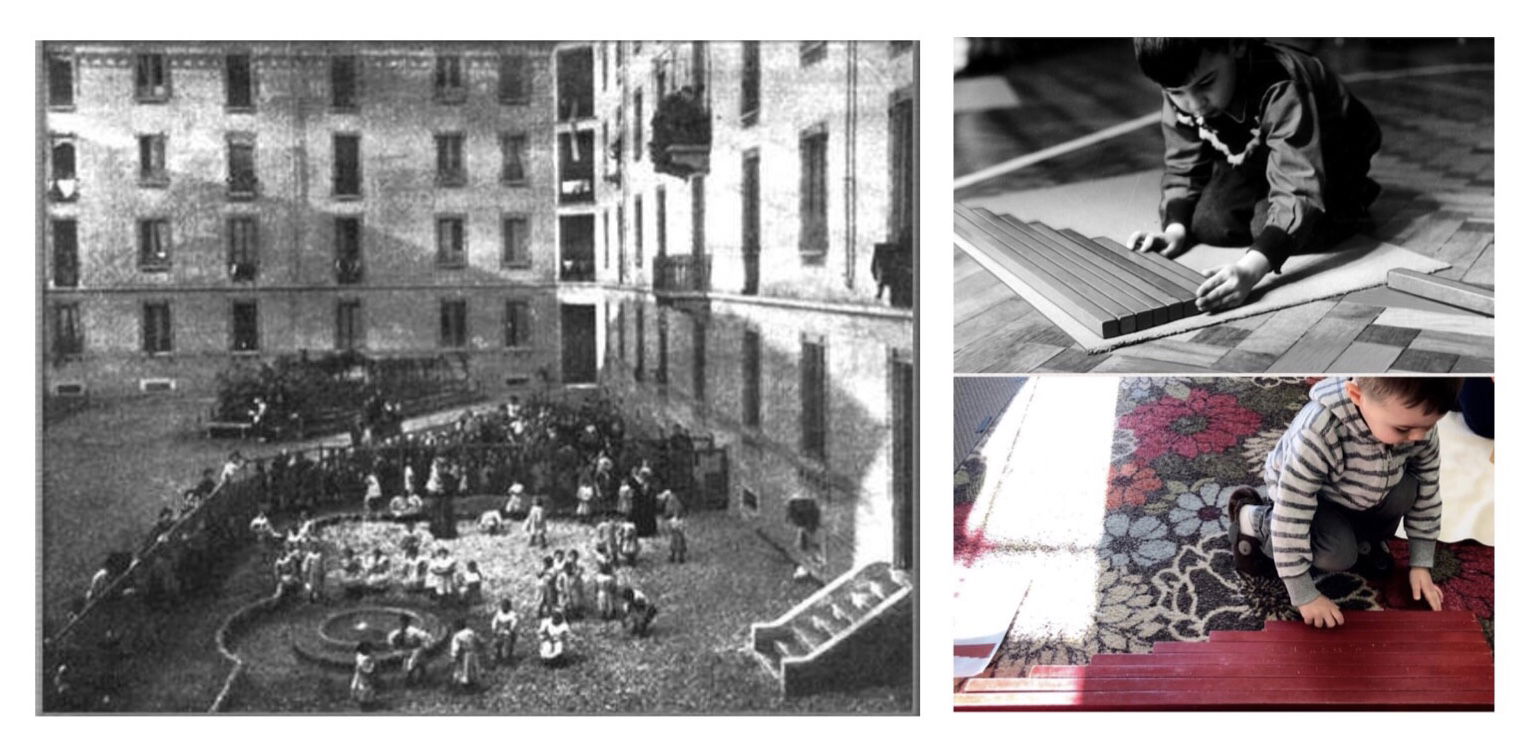 The first Casa dei Bambini, or "Children's House", was opened by Dr. Maria Montessori on January 6, 1907 in the low-income district of San Lorenzo, Rome, Italy, as part of an urban revitalization project. Through her observations and work with these children, Dr. Montessori discovered that children had not only a desire to learn but they did so nearly effortlessly. Thus began her life-long pursuit of educational reform. It is amazing to observe children, over a century later, having this same desire and using the tried and true materials of long ago in our modern-day Montessori classroom. Maria Montessori was indeed a woman ahead of her time!
What's So Different About Montessori?
A great deal of the appeal of a Montessori education is visual. When observing a program in action, it is obvious something out of the ordinary is taking place. Groups of children working together cooperatively throughout the morning lend to the calm and peaceful classroom atmosphere. Children learn at their own pace, choosing their work independently, all according to their interests and developmental level. This freedom leads to motivation, concentration, self-discipline and a love of learning. When a Montessori classroom is well tuned, the children begin to make discoveries. These discoveries, along with an atmosphere that encourages individual interests, fuel an emotional relationship with knowledge and encourage a life-long desire to learn. The Montessori class consists of a mixed-aged grouping of children 3 through 5 years of age, enabling the children to help and learn from each other and to develop at their own pace without the pressure of competition. Dr. Montessori learned through her observations that children are happiest in a prepared environment. Greenwood Montessori School's environment is prepared by a trained teacher and is designed to challenge, intrigue and delight young children while developing their talents. Both the young child's interest in the environment itself and the older child's growing awareness of the abstract are nurtured in the Montessori classroom.

Click here for a Comparison of Montessori Education with Traditional Education.
"Montessori is an education for independence, preparing not just for school but for life."